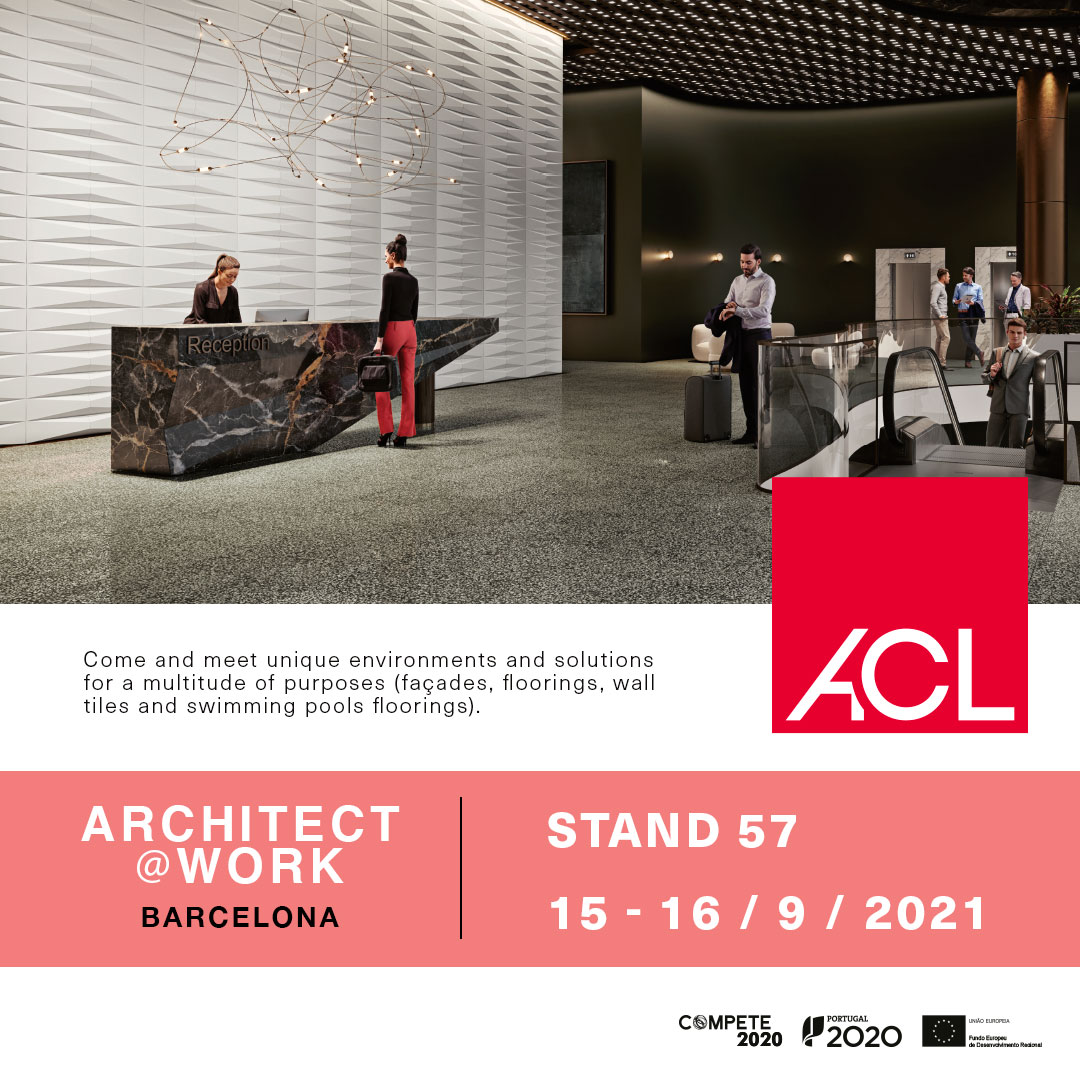 Architect@Work Barcelona 2021
30 Aug 2021
SENSORY DESIGN AND NATURE HAVE COME TO STAY AND ACL PROVES IT THIS SEPTEMBER AT A@W BARCELONA
A wood-covered floor that reverberates sound throughout the space. The gleaming marble of a countertop that invigorates the spirit. The roughness of a stone wall that gives sobriety to a room. All senses are awakened by the new trend in design and architecture that explores the potential of material and spaces and brings Nature back to interiors. Coincidence or not, is with all the naturalness and sophistication that the Portuguese company A Cimenteira do Louro (ACL) will present its premium coverings and flooring in the next edition of Architect@Work Barcelona, scheduled for the 15th and 16th of September.
The vital need for a return to authenticity, through the pacification between technology and nature, and the multi-sensory awakening of stimuli, instead of privileging vision, are the multiple dimensions that currently open up to architecture and design. ACL's new coverings - Slope, Scama, Hexa - embody this trend that explores the infinite ways to provide holistic sensory experiences to users of a space, in commercial, private or public environments.
Sensory design is a revolution that is transforming our individual and social behavior. By allowing us to fully connect with everything around us, it allows us to have a deep experience of the space and the surrounding environment, sharpening our senses and expanding our knowledge. At its core, sensory design is the way back to human nature and the natural world, by detaching us from the digital stimulus and expanding the human experience. A significant step for design, a big step for humanity.
In line with this trend, based on state-of-the-art technology to recreate and ennoble natural materials, is the Portuguese company ACL with its concrete-based coverings and floors. Riscado Plus, Vértices, Capitoné and Wave are some examples of collections in which the company was inspired by three-dimensionality and the perfect imitation of the colors and textures of nature elements of the Portuguese landscape, such as cork, stone and wood. This insight is determinant for the performative and aesthetic excellence of the Northern Portugal company.
ACL distinguishes itself with products that transform spaces and atmospheres and enhance the human experience and will prove it this September, at stand 57 at A@W Barcelona.
See you soon!