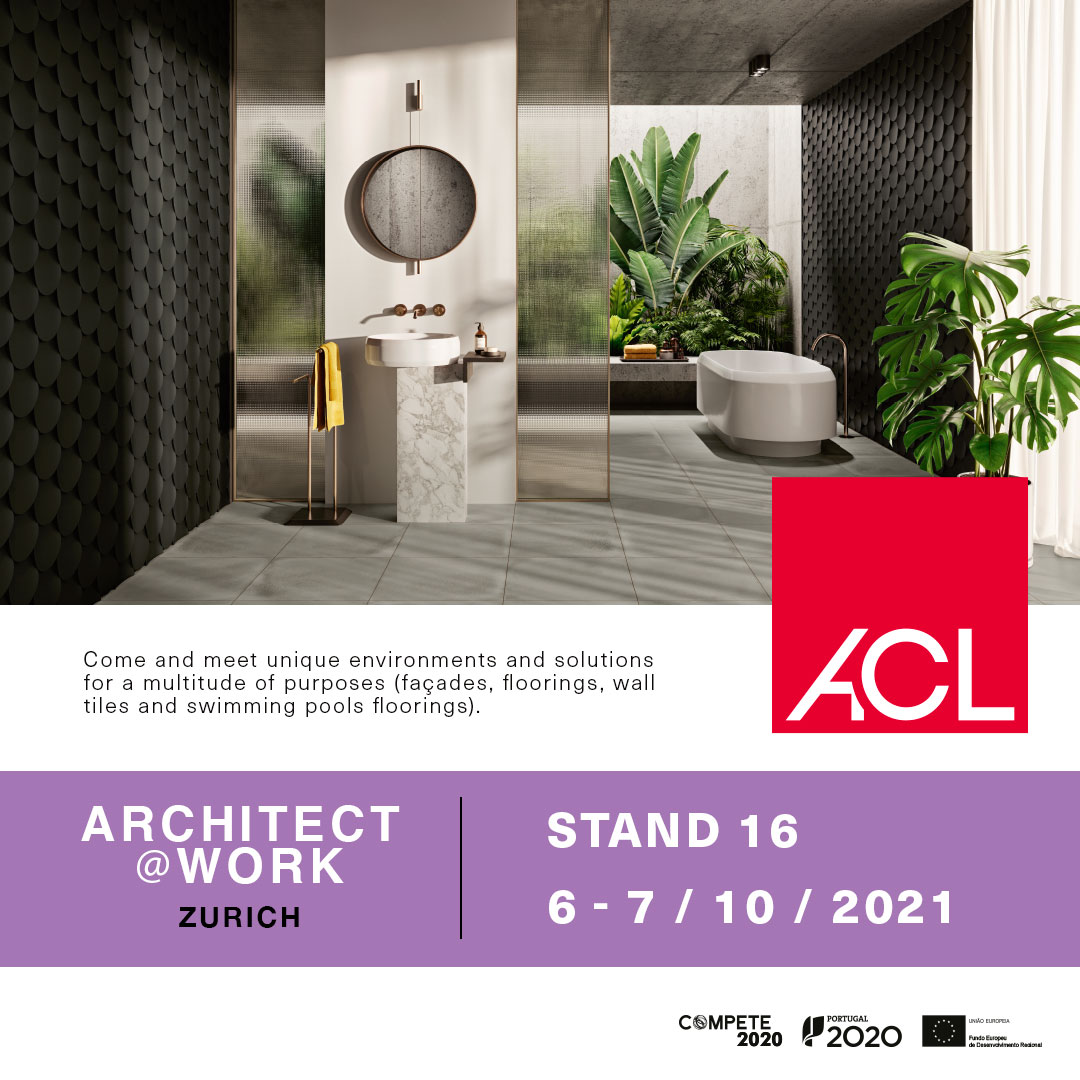 Architect@Work Zurich 2021
14 Sep 2021
MATERIALS AND HEALTHY WORLD, ACL AND CRADLE TO CRADLE CONCEPT, ALL TOGETHER IN A@W ZURICH 2021
How can architecture and design make this world healthier? With the high efficiency of materials? Or with an intelligent and sustainable design? The answers can be heard in the next edition of Architect@Work Zurich (A@W), this year under "Features - Materials for a Healthy World" theme. During the 6th and 7th of October, professionals around the world will debated and experience how the innovation of today is about sustainability in human and environmental ecosystems. A Cimenteira do Louro (ACL), the Portuguese leader in premium coatings and floors, will also be present at Zurich Exhibition Hall to show how sofistication and quality can rhyme with health – mental, social and ecological.
In its 2021 edition, A@W Zurich organization decided that it was a good moment to reflect on how materials can have a direct influence the health of our world. Besides the materials used in architecture and interior design projects, the elevation of areas such as sustainability, engineering and design of excellence are also at stake, therefore, the circular paradigm Cradle to Cradle is a process that is becoming a global certification unavoidable.
The concept was born, in 2002, in the book Cradle to Cradle: Remaking the Way We Make Things, by American architect, William McDonough, and German chemical engineer, Michael Braungart. They presented a design model that reproduces the processes of nature in the human industry. Here, materials are nutrients that circulate in metabolisms (technical or natural), healthy and safe. The gold? Make design a regenerating force, with a positive impact instead of just minimizing the harmful. How? Reusing all the elements and materials, at each stage of the process of making products, keeping them in continuous flows.
To make this happen, we have to innovate new products, designed so that each element is reused in the following products, without losing their value, as in recycling. Creating a cycle without waste instead of solving it is one of the pillars of cradle to cradle.
ACL meets the values of this circular paradigm, by using 100% of the material in its concrete-based products, for the development of new products. Innovation and design of excellence are thus materialized in coatings and floors that transform spaces with remarkable sensory experiences. The Portuguese company will present it's products at stand 16 at A@W Zurich, with the promise of inspiring the visitors.