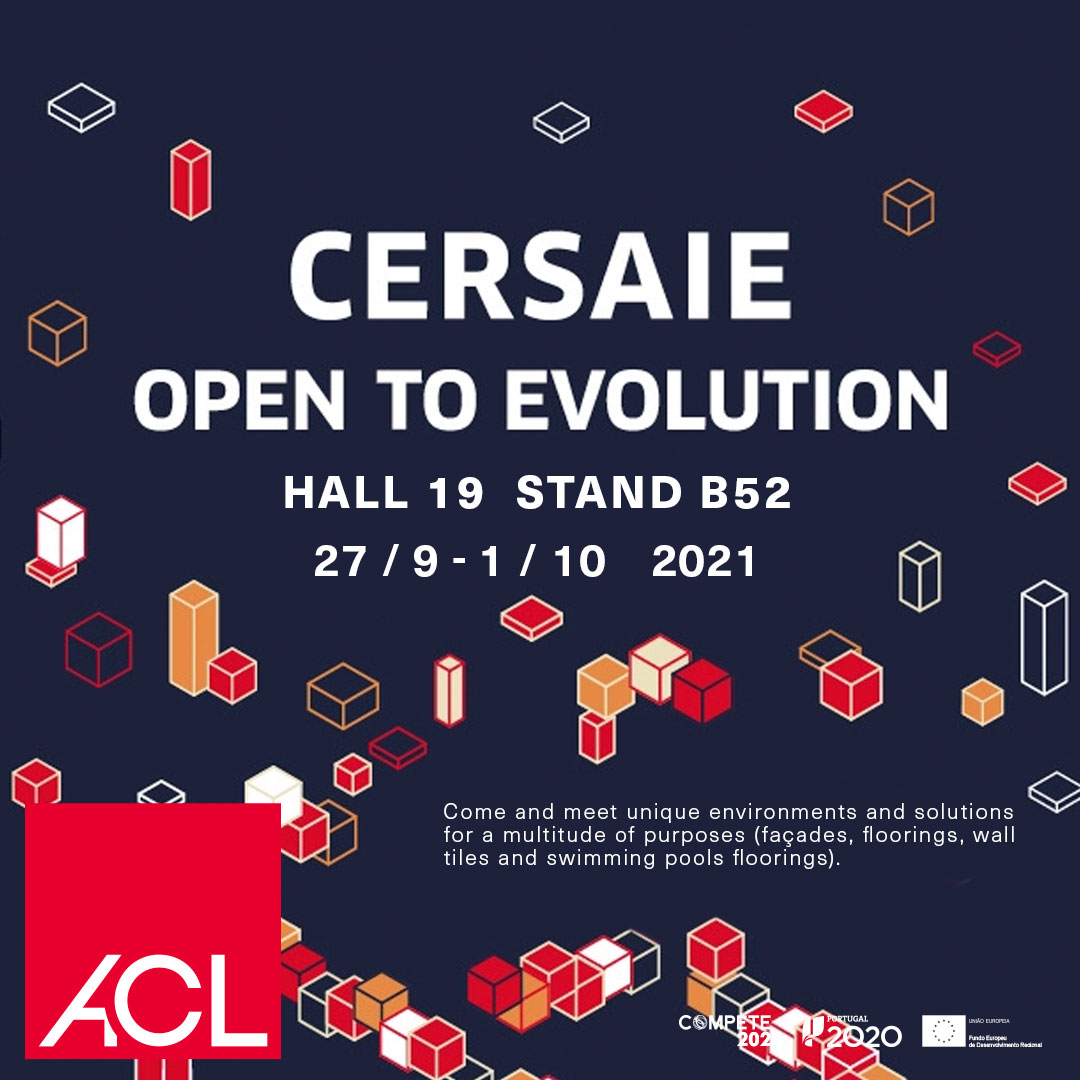 PORTUGUESE ACL WILL SHOW AT CERSAIE 2021 HOW SOPHISTICATION RHYMES WITH HIGH PERFORMANCE
Colors, patterns, textures, cultures, shapes and ages are inspiring architecture and interior design this year as well the new coatings of the A Cimenteira do Louro (ACL). Slope, Squama and Hexa are the hot novelty that the most international portuguese company in coatings and pavements will show this September, in Italy, in the 38th Cersaie's edition. During five days, ACL will show to the world the innovation and sophistication of its charismatic collections.
WHEN 3D AND ART DECO COME TOGETHER IN ACL, BEAUTIFUL COATINGS ARE BORN
The fascination of the great visual and experiential impact seems to be here to stay in Design and Architecture universes and the new ACL products are a good example of this. Slope, Squama and Hexa are the new coatings that the Portuguese concrete products company will present between the days 27th September and 1st October at the world's most important exhibition of ceramic tile and bathroom furnishings.
In a tribute to Art Deco, Squama and Hexa coverings arrive with their geometric patterns and curved shapes worked in fish scales and hexagons. The visual theme of these products fits harmoniously into different concepts and functionalities of spaces. Comfort with personality that can be experienced both indoors and outdoors.
Slope is the third novelty of the Portuguese company. Its bold volumetry sculpted in a dimensional geometry that plays with shadows and reflections gives a singular dynamism to the rooms, transforming them into environments of intense experiences.
Three-dimensionality is one of the strong characteristics of ACL coverings, which results from a happy synergy between cutting-edge technology, high quality and creative people with high sensitivity and experience in design and architecture. Riscado Plus, for example, has been one of the most applauded coatings at trade fairs and specialized events around the world, with its deep relief textures simulating the granite present in the landscapes and houses of northern Portugal.
THE SENSORIALITY AND STRONG EMOTIONS OF ACL PRODUCTS
In addition to the current trend of the histrionic mix of various design trends, there is an underlying characteristic in all of them, which is the sensoriality of design. In essence, sensory design is the way back to human nature and the natural world, by detaching us from the digital stimulus and expanding the human experience. And, in line with this trend, are ACL products, which use cutting-edge technology to recreate and ennoble natural materials. The three-dimensionality and the perfect imitation of the colors and textures of the natural elements, present in the Portuguese landscape, such as cork, stone and wood, define the performative and aesthetic excellence of the company from the North of Portugal. ACL distinguishes itself with products that transform spaces and atmospheres and sublimate the human experience. Step in into their world this September at hall 19, in stand B52, of Cersaie's fair.