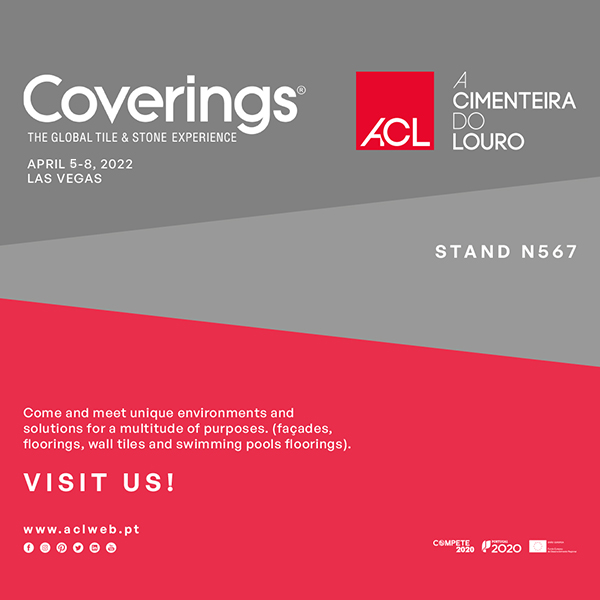 Coverings 2022
23 Mar 2022
PORTUGUESE ACL WILL PARTICIPATE FOR THE SECOND TIME IN COVERINGS
GATHERING THE MOST RELEVANT TILE AND STONE FAIR OF NORTH AMERICAN WILL CONQUER LAS VEGAS IN APRIL
This year, the North and Central Halls of the Las Vegas Convention Center will be filled with sophistication and technology with the most expressive tile and stone fair in North America. Coverings is the gathering where every company wants to be, that's why it is so important to A Cimenteira do Louro (ACL), the leading Portuguese company in premium floor and wall coverings, participate, for the second time in this event, where it best feels at home. For visitors and professionals this is the perfect meeting to learn, socialize and experience the best in the world of tile and stone design.
"The Global Tile & Stone Experience" is how Coverings presents its concept and identity to the world. This trade fair and exposition event is a unique experience for its participants that is kept in the best personal and professional memories album. During the days 5th and 8th of April, the world of tile and stone connects. There will be exhibitors from more than 40 countries and more than 1110 companies from around the world. From the most southwestern corn of Europe, comes ACL, from Portugal, which will present 15 of its collections of wall tiles. A number that surpasses its presentations at other global fairs+ and which confirms this event as the reference in its area of operation. The sensory design and innovation inherent in ACL products combined with the quality, aesthetics and cutting-edge technology that parades at the Coverings fair.
News, cutting-edge technology, innovation, design of excellence will be the atmosphere that will welcome ACL during four days, with its products of excellence.
See you there!
Stand N567