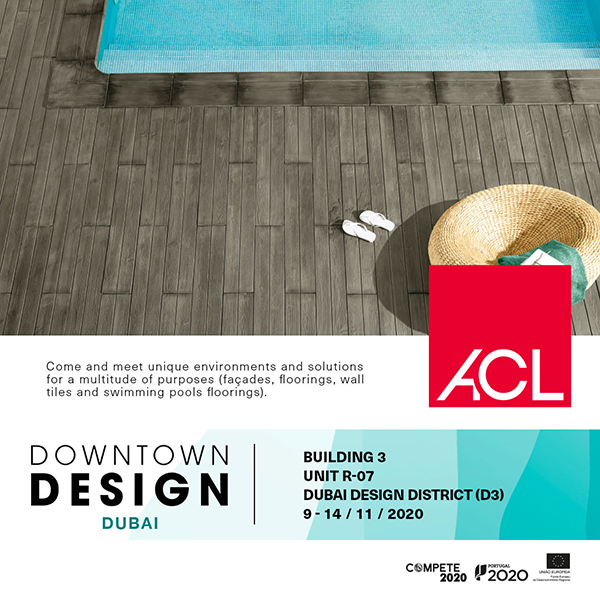 Dubai Downtown Design
26 Oct 2020
Excellence Design brought to Dubai by the Portuguese ACL- A Cimenteira do Louro

A Cimenteira do Louro (ACL), a luxury home building material brand has a long- standing history of creating beautiful homes, offices, building and infrastructure. Over four decades of design and inspiration comes together to create stunning range of floorings and wall coverings. With a focus on innovation, quality materials and skilled craftmanship, the collections showcase unique designs to suit every style and taste.

Founded in 1975, ACL - A Cimenteira do Louro, is a premier interior design brand by merging elements of nature with arts to provide a unique dynamism to each aspect of your surroundings. Combining the aesthetic values with the quality and robustness of the products, a unique alliance is formed between technical knowledge and innovative quality design, creating a harmony with proven effectiveness, which translates into a differentiating factor.

The leading Portuguese company A Cimenteira do Louro (ACL) will be present alongside numerous other exhibitors at this year's Dubai Design Week showcasing its latest premium floor and wall coverings collections like Ardos, Hando Plus, Vértices, Riscado Plus, Madeiras and Marmocim will be showcased exclusively at the exhibition.

ACL provides interiors solutions that understand individual needs and tailor-makes designs for indoor and outdoor settings. Sourced from natural concrete, the texture and colours designed by earth are multi-faceted. It perfectly fuses with any home or commercial architectural styles from contemporary, classic to retro-industrial designs.

Downtown Design is a leading event, focusing on original designs that inspire. It's the perfect platform for ACL to present its best-in-class, innovative and inspired designs to industry professionals as it plans ambitious expansions across the Gulf Cooperation Countries (GCC).

Join us at Stand R-07 at Dubai Design District from 9th to 14th November to witness the launch of exciting new designs created exclusively for the market.