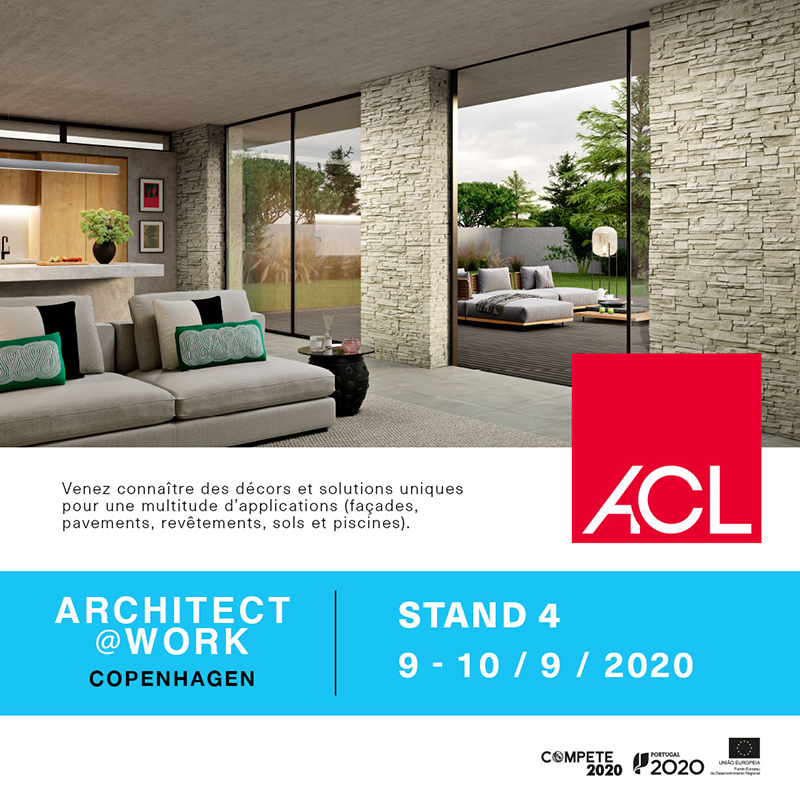 WASTE AND ARCHITECTURE INSPIRE ARCHITECT@COPENHAGEN 2020
17 Jul 2020
Waste and architecture inspire Architect@Copenhagen 2020

For the first time, Portuguese company ACL will present its products in Danish lands

1.3 billion tonnes is the waste produced annually by all nations on the planet. What does this giant number means? Loss or opportunity? For the new currents of architecture and design, waste is synonymous with innovation, originality and preservation of social and natural ecosystems. Between 9 and 10 September, Architect@Work Copenhagen will debate this recent form of seeing waste through conversations and workshops. For A Cimenteira do Louro (ACL) this theme fits perfectly into the DNA of its wall tiles and flooring. The most international portuguese company in its business will show in the danish event how waste can rise superior products in aesthetics and performance.

"Garbage needs to be freed from its pejorative stigma." The idea comes from the beginning of the last century, through the sensitive eye of the French intellectual, George Bataille. Almost 100 years later, most of the waste produced continues to be hidden underground or incinerated. However, there are paradigm shifts.

An example of this is, in the current year of 2020, Waste & Architecture being the central theme of one of the most charismatic architecture, design and technology meetings in the world. In the next Danish edition of Architect@Work, taking place at the Copenhagen Forum, you will feel the thrill of this new way of looking at waste through architectural and design projects and products, as bold in aesthetics and innovation as in green in processes and materials.

By serving as a convergence between citizens, the environment and the economy, the architects and designers of today and tomorrow feel the responsibility to change habits, experiences and mentalities. For the architect and environmental activist, Duncan Baker-Brown, that role is to make the natural world wild again. Like? Do not dig up or extract more raw materials, but use what is already above the ground, that is, all the material produced by man - sanitary landfills, ocean plastic, existing buildings… Enter the metabolic cycle of the circular economy and leave it for good the take-make-waste mentality.

ACL meets the values of this circular paradigm, by using 100% of the material in its concrete-based products, for the development of new products. Innovation and design of excellence are thus materialized in coatings and floors that transform spaces with remarkable sensory experiences. This September, the Portuguese company will be at stand 4 of A@W Copenhagen, presenting to Denmark and the rest of the world it's premium collections Riscado Plus, Hando Plus, Vértices, Siena e Dex.

See you there!