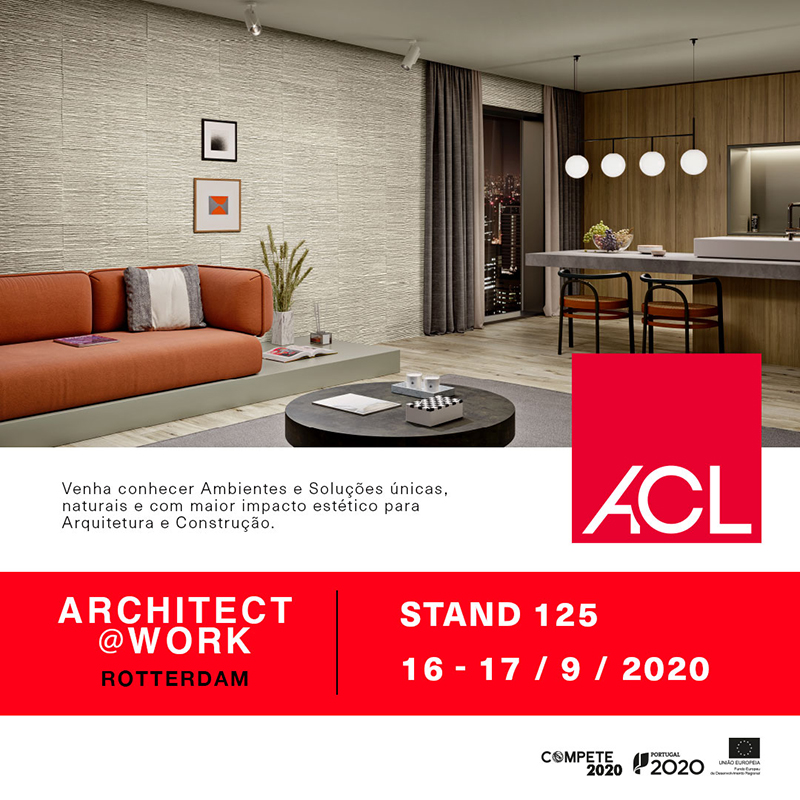 In 2020, A@W Rotterdam will be future proof
22 Jul 2020
In 2020, A@W Rotterdam will be future proof

ACL wall tiles and floors will represent Portugal in the largest international meeting of architecture and design

The future is on the way. How do architecture and design prepare to receive this unpredictable time? Being proof of it or being future proofing. We could be talking about a science fiction film, but no. It is, rather, the theme of the fourth edition of Architect@Work Rotterdam, which will take place on the 16th and 17th of September, at Rotterdam Ahoy. In this edition, the Portuguese company A Cimenteira do Louro (ACL) will debut the event's exhibiting stage with its premium coatings and floors that are proof of what is to come and much more.

Usually, when we project architecture and design into a future landscape, immediately arises the idea of how we have to be sustainable to preserve it. But for the architect of historical preservation, Brian Rich, more than being sustainable, architecture and design universes or even a community and the planet itself, must be resilient and flexible in the face of the unpredictable. Focus on Future-Proof is the thematic lens with which A@W Rotterdam will reflect on the issues that go through the construction and aesthetics of spaces, in the social, ecological, technological and innovative fields.

How to feint the unpredictability of the future, which is predicted with greater scarcity of natural resources and increasingly extreme climatic conditions? Rich gives us not one but 10 answers to this question, in his book-manifest 10 Principles of Future-Proof, launched in 2014. For the author, sustainability is still a valuable concept, but it is in decline, by privileging efficiency and not the resilience of buildings.

Being flexible and adaptable, designing in the medium to long term, considering the entire life cycle, being autonomous from advanced technological systems and obtaining efficiency and robustness in the physical characteristics of the materials are some of the ways to predict and prepare the impacts of the future and have a new approach to preservation and sustainability.

ACL identifies itself with this way of receiving the future when using its raw material with the maximum benefit of its performance and recycling potential. Through innovation and creativity, the concrete, used by the most international Portuguese company in the floor and wall covering market, is transformed into original and robust products, with a great impact on indoor and outdoor spaces.

The resilience of the company with more than 4 decades of existence will be represented at stand 125 of A@W Rotterdam, through the products Riscado Plus, Vértices, Hando Plus and Dex. For two days, the classic Rotterdam event arena will be the setting for a very special meeting where the social and professional relationships in the world of architecture and design become unshakable in the face of all future adversities.